What is a Standard ADU Plan?
The Standard Plan Program was put in place by the Los Angeles Department of Building Safety (LADBS) in order to allow for an expedited permitting process for Accessory Dwelling Unit (ADUs) designs that are constructed
over and over again.
Choosing a Standard Plan ADU is a great option if you require a faster turn-around time for Plan Check. Standard Plan ADUs have already received the pre-approval in relation to Building, Residential, and Green Codes.
Why Choose a Standard ADU?
Not only is our ADU design approved by the LADBS as a part of the Standard Plan Accessory Dwelling Unit Program, it is a simple, affordable and functionally-designed building which is extremely versatile. We utilize the best practices and our construction experience to enable our clients to save money in all areas of design and execution. We know that at the end of the day our clients want an aesthetically-designed, functional, and cost-effective ADU, and we deliver just that!
Deigned - Drafted - Approved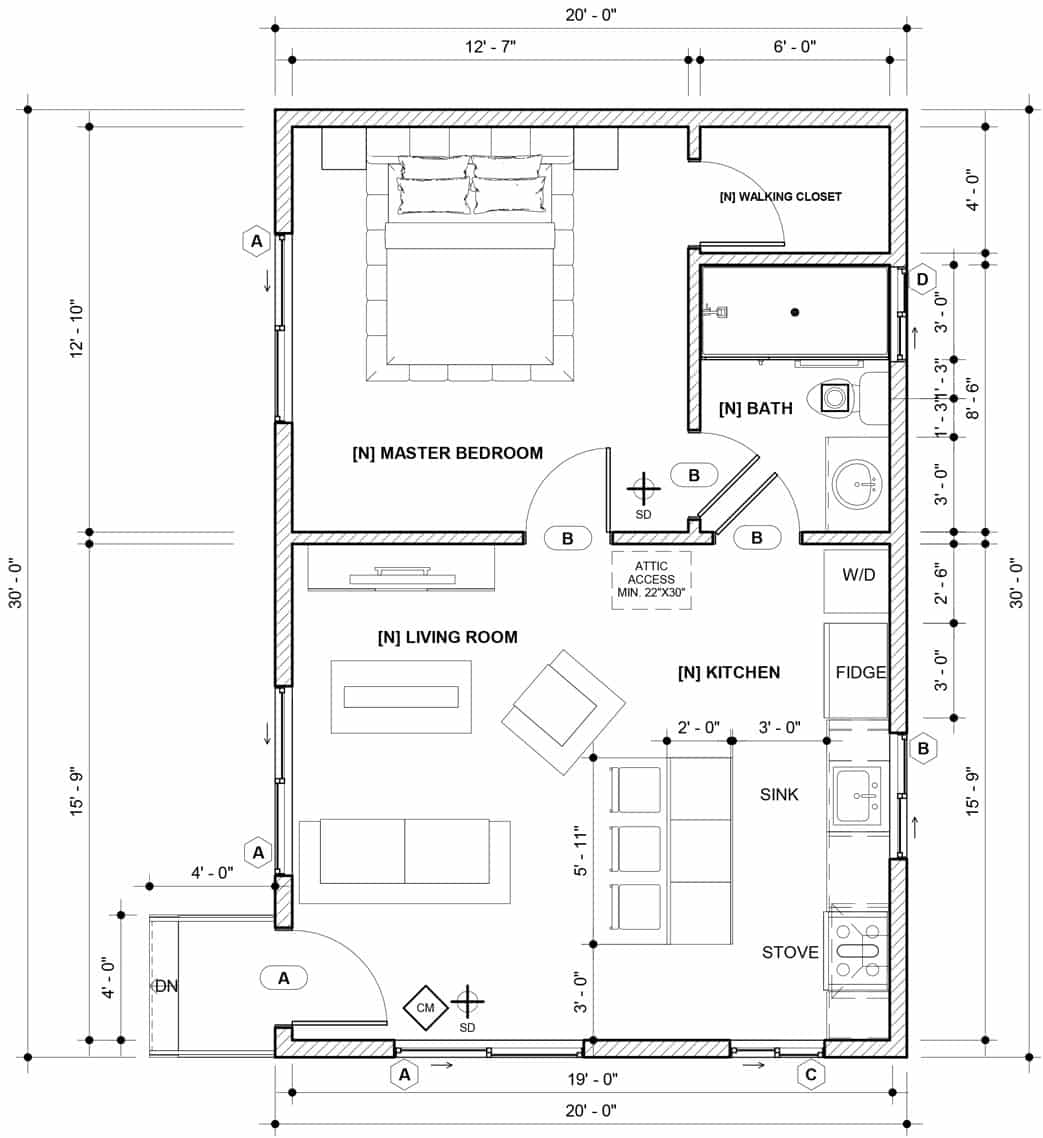 Why CPdrafting's Standard and Approved Plan?
Key Features: 1-Story, 1-Bedroom, 600 Sq. ft., 20'x30′ (wall to wall), (22'x32′ including eaves)
This ADU design is our most popular 1-story foor plan from 75+ ADUs that Complete Package Drafting, Inc. has designed in Los Angeles. It is easy to build and very suitable for owner-builders. Moreover, this ADU is designed to be affordable and very practical as the foorplan accomodates everything needed in a standard ADU. Complete Package Drafting has a library of ADU designs and can also provide custom and new designs in an affordable and timely manner. All the work is per the Wood Frame Prescriptive Provisions (WFPP) which is the standard and most common type of construction for ADUs.
Complete Package Drafting makes the design and approval process easy and straightforward, so you get the plans and approvals you need to transform your home, business, or multi-family property. Our team provides you one set of drawings to streamline the approval process, all while making sure they're compliant with the latest building codes.
Complete Package Drafting is committed to getting the job Complete in an affordable, timely manner!
Contact Us Today!
Email Address: Info@CPdrafting.com
Phone Number: (818) 493-1121